Ayutthaya is the former capital of Thailand and is renowned for its temple ruins and historical sides. Ayutthaya is the perfect place if you want to see the Buddhism culture. Ayutthaya attracts many backpackers by its historical sides and this place is a must-see when you make a round trip through Thailand.
Temple of ruins
During your stay in Ayutthaya, you have to visit is the Wat Phra Si Sanphet. This temple has served as the royal monetary for the Thai king in 1350 till 1448. You can make a walk through the monetary and you'll end up in front of the royal palace. Nowadays, this temple is a ruin which is impressive for the eye. This temple has also served as a modal which is now located in Bangkok. Back in the days, the Wat Phra Sanphet used to be the most important temple in the whole Ayutthaya region.
Dutch sights in Thailand?
Yes indeed, there is a big Dutch monument in Thailand which is called Baan Hollanda. This house keeps the Thai-Dutch history. It has been opened since 2013 by the former queen of the Netherlands herself "Beatrix" and the Dutch government. In this building, you see the Dutch history of the VOC. You see the lifestyle of the Dutch residence during this period, how they worked and how they integrated with the Thai culture.
Exhibition of Buddhism
The Chao Sam Phraya National Museum is a museum you have to visit during your stay in Ayutthaya. This museum has many artefacts from different temples across Ayutthaya. At the first floor, you'll see Buddha images which show you the fortune of the time they were built by the style of the images. At the second floor you'll find many gold and wooden Buddha's and at the third exhibits the traditional houses of Thailand.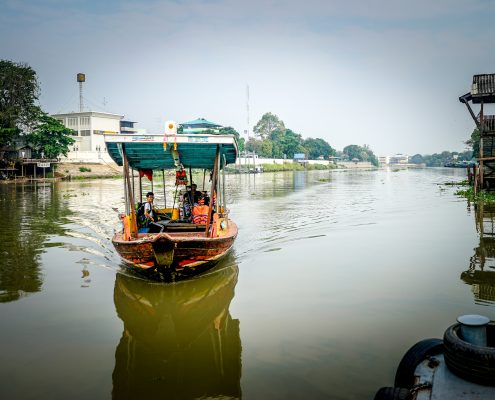 Shopping under the locals
If you want to see true Thai culture, you must go to the Krungsri Night Market. You'll find everything you can think of when you visit this market. The market has also plenty of traditional food choices. The food is also fresh which makes the taste of the Thai dishes only better. You'll also hear Thai sounds the whole evening to make the Thai experience complete.
https://www.asialink-holidays.com/wp-content/uploads/2019/11/Highlight-Ayutthaya.jpg
1271
1920
Asialink
https://www.asialink-holidays.com/wp-content/uploads/2018/03/logo-new-1.png
Asialink
2019-11-01 14:56:09
2019-11-01 14:56:09
Best thing to do in Ayutthaya