Sapa Hill Tribe Experience – 4 Days 3 Nights
Highlights….
Amazing landscape in Sapa
Hill tribe: H'Mong, Red Dzao
Weekly minority market
Minority village
Experience the Roof top of Indochina by cable
Welcome to the roof of Vietnam, where the mountain of Hoang Lien Son range soar skyward. Sapa, retains great charm with its impressive natural setting high on a valley side with Phanxipang, Vietnam tallest mountain and the clamor and color of ethnic minorities' clothes still worn today. You could find the stunningly beautiful traditional customs especially on the weekly market days where locals come from far and wide to trade as they are for generations. An encounter with the minority's people is both a humbling and heart-warming experience.
Detail itinerary:
Day 1: Hanoi – Lao Cai Overnight train
Prepare for your jacket and be ready for first experience. Your tour guide will pick up at hotel and take you to Hanoi railways station where you take overnight train to Sapa.
Transfer to Hanoi station at client own arrangement
Overnight train to Lao Cai at tourist standard cabin with A/C – 4berth sharing with A/C.
Estimate the timing departure at 19.30PM and arrive around 5.30AM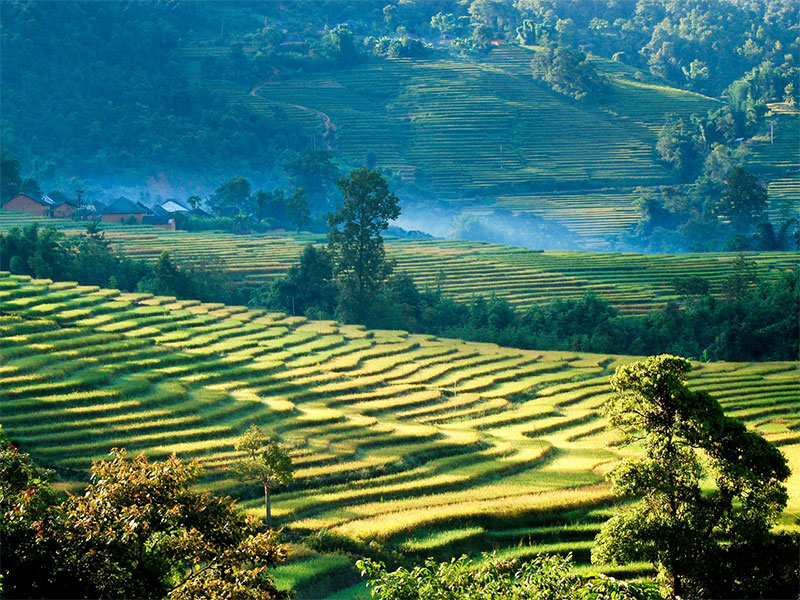 Day 2: Lao Cai – Sapa – Y Linh Ho – Lao Chai – Ta Van (B)
A road climb slowly westward away from Lao Cai along the steep, terraced hillsides of Hoang Lien Son Mountain range take you to Sapa, a cloudy town. The morning walking tour after breakfast around town will let you really feel the beauty of this pleasant place. their beautiful clothes. Visit Sapa Market, where Red Dao, Black & Flower H'Mong, Tay and other ethnic minority people converge from the surrounding countryside to sell their silverware and handicrafts, you could find yourself some handicraft here too. Get out from town into the valleys to visit hill tribe village, we will witness the rhythms of rural life, or harvesting rice and plowing with water buffaloes.
Local guide and driver will pick you up at station for breakfast at local restaurant in Lao Cai then transfer to Sapa.
If you are active couple and ready, we can chose the mountain trail to trekking to minority village with less touristic and spectacular view.
If not, you can chose the easy way of soft trekking to get the beautiful view of minority village
First start of 6km of walking down to the south east of Sapa along the side of Muong Hoa valley to Y Linh Ho village of the Black H'mong. Continue a 2km-trekking down to Lao Chai village, through terraced rice fields to Ta Van village of the Dzay minority people.
Enjoy the landscapes…on the way.
Stay overnight at local homestay in Ta van village – Homestay.
Remark: Trekking level: 6/10 and 10Km trekking
Day 3: Cat Cat – Sin Chai – Lao Cai (B)
Take your time at leisure to enjoy your last day in Sapa with weekly market Minority market is not simply a market where people buying and selling things but it also a meeting point for people from difference villages come and meet each other, women not only trade & gossip, they also show their sewing talents by wearing the most beautiful costume, men not only show their talent in feeding their cattle but it also the chance for them to meet friends and consume quantities of rice wine. Many young people become couple from these market fairs. Or exploring roof top of Indochina by cable.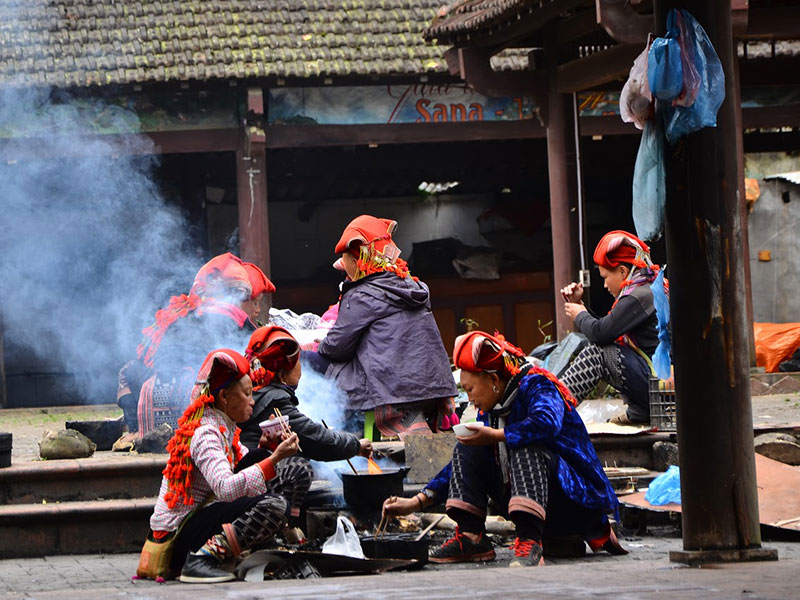 Breakfast at the local house
Full day at leisure
Option 1: Transfer back to Sapa town and walk down to the South-west of Sapa (around 4 km) to visit Cat Cat village of the Black H'mong. Relax at the food of the stunning waterfall and the vestige of a hydroelectric power station that was constructed by the French during the colonial time in Vietnam. Enjoy picnic lunch ( at your own arrangement) by the side of the river, and then next 3 km to Sin Chai, the village located at the foot of Fansipan Mountain, "the roof of Vietnam and Indochina". Remark: Trekking level: 4/10 and 7km trekking
Option2: Exploring Rooftop of indochina by Cable
Option3: Visit Weekly market
Transfer to Lao Cai station for overnight train to Hanoi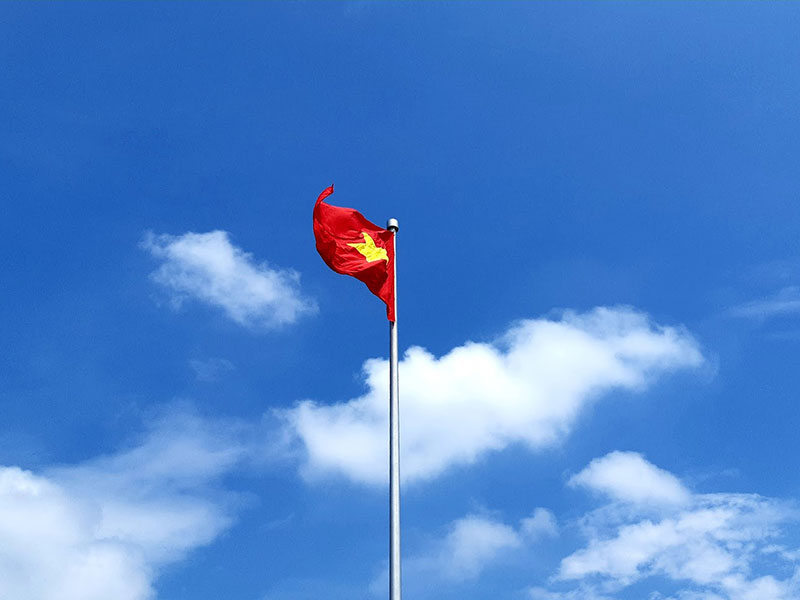 Day 4: Arrive Hanoi in early morning
Some of the most popular wekkly minority markets are
Tuesday: On Tuesday you can visit Coc Ly Market, a small gathering of the Flower Hmong, Black Zao, Nung and Tay minorities. Among the goods for sale you'll find vegetables, livestock and local textiles, all the subject of some lively bargaining. We also recommend a boat ride along the Chay River followed by a short walk to the Tay minority village of Trung Do, although in July and August the boat ride is often not possible due to high river water levels.
Wednesday: Wednesday is market day in the hamlet of Cao Son, in the Muong Khuong District of Lao Cai Province. An early start is a must to reach this market, but we think it's worth it. The trip takes you through beautiful scenery ranging from tea plantations to pine forests, and on arrival you'll find a bustling market packed with buyers and sellers from all the main communities who live in this area, including Flower H'Mong, Phu La, Dao and Tu Di.
Thursday: A trip to the small Lung Khau Nhin Market, travelling via the Tram Ton pass, which at 1900 metres is Vietnam's highest. This tiny market is another of the most traditional in this area, and a variety of minority tribes people gather to sell their wares. Expect to meet the friendly and hospitable Tai Lu, Tai Laos, White Tai, and H'mong amongst others. After exploring the market, you'll have the chance to visit the Black Dao village of Sin Lung Chai.
Saturday: One of Vietnam's most interesting markets, the small but unique gathering at Can Cau takes place every Saturday. Groups such as the Flower H'mong, Black Zao, Tay and Phu La come from near and far to trade and socialize with each other and with their neighbors from across the Chinese border. The Flower H'mong in particular is known for their elaborate costumes, which ensure the market is always a riot of color. Keen photographers will enjoy the chance to capture the picturesque scenes of local life, as well as the beauty of the surrounding landscapes.
Sunday: Finally, the weekends with perhaps the most famous of all the markets of this region, held at Bac Ha, around 3 hours from Sapa. This huge gathering of minority people offers everything, from local produce to some of the intricate textiles and handicrafts for which the area is so well known. You can also see many other interesting facets of local life, such as the practice of traditional medicine. This area has a particularly large Flower H'mong community, so called due to the bright and striking colors of their traditional costumes.