Banyuwangi "the sunrise of Java" this is the name of the eastern tip of Java which is given by the residence of the island. Banyuwangi offers many natural sights which are a feast for the eye. Have you ever seen a big blue flame? Then here is your chance, because there are just 2 places where these kind of flames exist. Or maybe you want to have an African-Style holiday where you'll see African wild life in front of your eyes. Do you want to relax? Banyuwangi is a perfect place. The following are recommendations for activities during your holiday in Banyuwangi.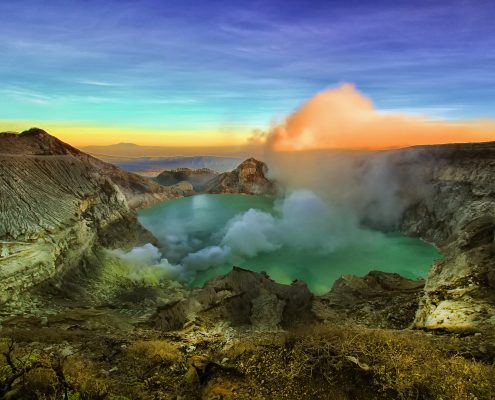 Witness the beauty of blue fire in Ijen Crater
Mount Ijen feels special due to its rare phenomenon in the form of blue fire which only exists in 2 places on the world. Blue fire is a process of sulfur evaporation that looks bright blue at night. The blue fire moment will be only at 02.00-04.00 local time. With an estimated start at Ijen Cater, you'll do a trek of 2 hours. Otherwise, you won't be able to see the blue fire phenomenon. Tourists will start at Kalipuro around 1:30 in the morning.
See rare flora and fauna in Baluran
Baluran is a national park that is often dubbed as the "African of Java" and that is not without reason. In Baluron is a savanna landscape similar to the savanna landscape in Africa. The national park area which has an area of approximately 25 thousand hectares has a variety of flora and fauna that are protected by the state. You'll be treated by views of meadows and exotic mountains. You can get acquainted with protected animals such as bulls, buffaloes, deer, and long-tailed macaques. During the rainy season, there are many animals that look for food in savanna which covers almost 10,000 hectares. you still have to be careful with wild animals such as snakes and a herd of bulls that can come at any time considering this still wild life.
Visit the unique Selendang Arum waterfall
Selendang Arum is a waterfall located in Sumberasih sub-village which is rarely touched by humans due to its somewhat hidden location. With its height of 20 meters and lush trees, Selendang Arum Waterfall is a beautiful sight to see. This waterfall is called Selendang Arum due to its rock-like shawl. The water runs through stone walls which sparkles when exposed to sunlight just like an present an exotic feel resembling a shawl.
Surfing at G-Land beach
G-Land Beach, also named Plengkung beach, is the best surfing spot in Indonesia. Both beginner and professional surfers can surf at the G-Land beach, due to three levels of waves at the beach which are ranked from 3 to 4 meters for beginners to 6 to 8 meters for professionals. The surfing experience of G-Land beach gets even better with the atmosphere which is still beautiful. Its remote location and surrounding dense forest makes the air pollution-free. You will get an unforgettable surfing experience on this beach.
Go on an adventure in the forest of Alas Purwo
There is one more location in Banyuwangi which is a pity to be missed. This location is Alas Purwo National Park. Navigating this area is like exploring the wild version of Indonesia, which is said to be the oldest land in Java. The national park, which covers 44,037 hectares and has been designated a National Geopark, is home to hundreds of species of flora and fauna. Not far from the gate, you will see a Hindu temple called Site Kawitan, which in Jawi Kawi means oldest temple. This is related to Alas Purwo, which is believed to be the first creation made be humans on Javanese land. You can also visit the vast Sadengan savanna where you can see peacocks, deers and Javanese bulls.
https://www.asialink-holidays.com/wp-content/uploads/2019/11/See-rare-flora-and-fauna-in-Baluran-scaled.jpeg
1440
2560
Asialink
https://www.asialink-holidays.com/wp-content/uploads/2018/03/logo-new-1.png
Asialink
2019-11-21 03:38:14
2019-11-15 03:47:08
Best Things To Do in Banyuwangi