Yogyakarta is a special region in Indonesia, because this area is the only area that is led by a sultan. With its Javanese customs and culture that are still thick, this place also has many tourist destinations that are no less exciting and interesting than Bali or popular tourist attractions in Indonesia. The following are recommendations for activities that you can try while on vacation in Yogyakarta.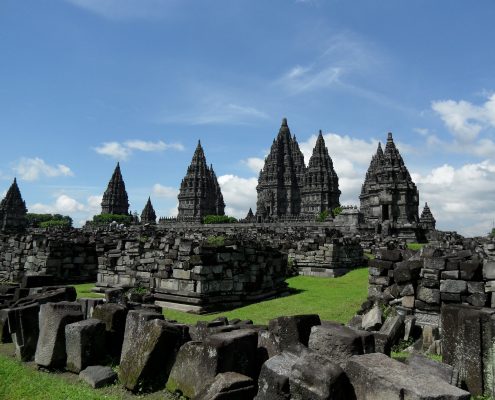 Studying History in Borobudur and Prambanan
Borobudur and Prambanan have become icons of Yogyakarta, so your visit to Yogyakarta would not be complete if you don't visit both. The magnificent Borobudur architecture and also its history make this temple one of the world's biggest cultural heritages. The history of the Borobudur temple is estimated to be around 750 AD and was built by king Samaratungga of the Syailendra Dynasty, one of the great and powerful dynasties that once existed in the Nusantara. Turning to Prambanan, a temple that tells the story of an eternal love. The story speaks about Bandung Bondowoso who struggled to build a thousand temples to be able to marry his idol, Roro Jonggrang. Visiting these two places can be a medium for learning history and admiring the great culture and abilities of the forefathers of humanity.
Admire the Yogyakarta Palace
Kraton Yogyakarta, also called Kraton Ngayogyakarta Hadiningrat, is a kingdom complex located in the heart of the province of Yogyakarta. The palace, which was established in line with the Giyanti agreement in 1755 which split the Islamic Mataram Kingdom into the Kingdom of Ngayogyakarta "Surakarta" kept the undoubted beauty of Javanese architecture. You can take pictures with the background of Javanese buildings which are beautiful for the eye. In addition to admire the architecture, you can also watch art performances ranging from gamelan music, puppets to traditional dance.
Enjoy the iconic dish of Gudeg
Gudeg is a traditional Javanese dish of Yogyakarta's cuisine which is made from raw young jackfruit boiled for several hours with palm sugar, and additional spices with coconut milk. Gudeg is served with rice, chicken, eggs, boiled, tofu or tempeh, and krecek which is made from fried sambal existing of crispy cow skin. Spicy flavor becomes sweet and has a distinctive and delicious taste. For culinary lovers, it is a must-eat dish which you have to try when traveling through Yogyakarta.
Surrounding Malioboro by Becak
One of the fun things to do on vacation in Yogyakarta is to travel around Malioboro using a Becak. Becak is traditional transportation which you will sit in the front while the driver sits behind while pedaling. One of the advantages offered by a Becak is a minimalist seat, which can only be occupied by a maximum of two people. Thus of course you can enjoy quality time while enjoying the beauty of Malioboro. The Becak is driven by human strength and because of this, the Becak won't be fast. Thus you can hunt more photos than usual.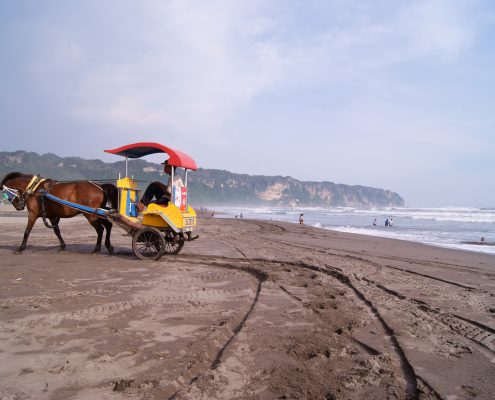 Explore the beauty of Parangtritis beach
Parangtritis Beach is indeed famous for its legend, which is related to Ratu Kidul as the ruler of the southern sea. Apart from the legend, this Parangtritis beach area offers beautiful natural scenery and doesn't make you feel bored looking at every inch where you can have a look. This beach is undoubtedly beautiful due to its wide beach in Yogyakarta which offers a big variety of activities, such as driving around the beach using an ATV motorbike, horse or delman riding, doing sports such as soccer at the sand, playing on the edge of the waves, playing kite surfing, or just sitting while enjoying the atmosphere of Parangtritis beach which is so charming.
https://www.asialink-holidays.com/wp-content/uploads/2019/11/Yogyakarta_Indonesia_Tugu-Yogyakarta-02.jpg
3326
5597
Asialink
https://www.asialink-holidays.com/wp-content/uploads/2018/03/logo-new-1.png
Asialink
2019-11-08 05:45:04
2019-12-10 08:13:06
Best things to do in Yogyakarta