Kupang is a less known tourist destination in Indonesia, but the best thing about Kupang is that this destination is totally different from the rest of Indonesia. This city is located on the island of Pulau Timor. The landscapes are similar to the landscapes of Africa and because of this, you have the feeling that you are in a totally different continent. The people in Kupang are dying to meet you, especially when you are a foreigner from a western country. Already interested? Keep reading our recommendations for Kupang.
The forest in the sea
With forest in the sea, we mean mangroves. Mangrove is not touristic and you can see that on the way how it's built. During your visit, you will think that you are walking on a tree-house-like architecture and this gives you an exciting feeling. The structure is really stable, but it doesn't feel and look like it. The locals are making pictures of the mangroves and when they see you, you have to go on a picture with them.
Drive around the island of Pulau Timor
Driving around the island is for itself a very nice activity to do during your stay in Kupang. When you are exploring the island, you will see a landscape of a dry rainforest which is extraordinary sight to see for you as a tourist. There are also several markets you will pass. It's a good idea to stop at one of those markets, cause you will have to opportunity to buy traditional handcrafts which are unique to the island. You will probably be the only foreigner at a market like that and the local people will admire you during your visit.
Eat at the boulevard of Kupang
At the boulevard of Kupang, you'll find some nice terraces to have a meal or something to drink. Mostly of the time, the terraces have 2 levels which provides you for more places. The music which is played is modern music which gives you a real holiday feeling. On the beach are many seats which are waiting for you to take place, so you can enjoy the sunset while you are dining or just drinking something. This is a must do during your stay in Kupang.
Crossing the border to Timor Leste
When you go to the north of the island, you'll be going to the border of Timor Leste. This is a different country, but you will get the opportunity to set a few footsteps in the county. The landmark of Timor Leste is waiting for you at the border of Indonesia. It is a massive pole with the name of the country on it and this is a good stop to make a picture which will make your trip memorable. After you have been there, you can go back to Indonesia which has also a landmark with the letters of Indonesia which you have to see.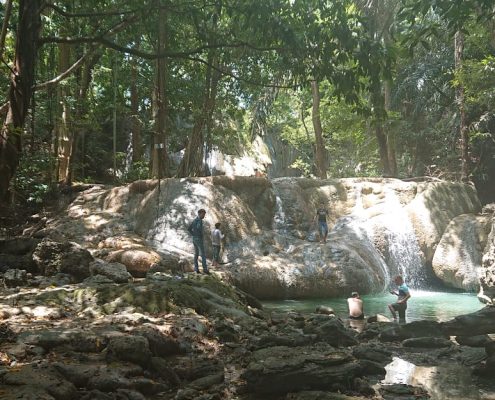 Seek refreshment at Oenesu Waterfall
This waterfall is easy accessible and not touristic, but it is still big and it's a wonderful sight to see. The waterfall even has its own parking place. Reaching the waterfall itself is a little bit tricky after you have parked your car. That's because there is not a real walking path, but that makes the waterfall look more natural than it already is and you will have a little bit of a challenge during your visit. After you reach the end, you will be rewarded with an amazing view and you can even jump off the waterfall if you brought you swimming clothes with you.
https://www.asialink-holidays.com/wp-content/uploads/2019/12/Drive-around-the-island-of-Pulau-Timor.jpg
719
1280
Asialink
https://www.asialink-holidays.com/wp-content/uploads/2018/03/logo-new-1.png
Asialink
2019-12-14 03:10:02
2019-12-06 03:15:50
Best things to do in Kupang