Snorkeling At Amed Or Padangbai Amed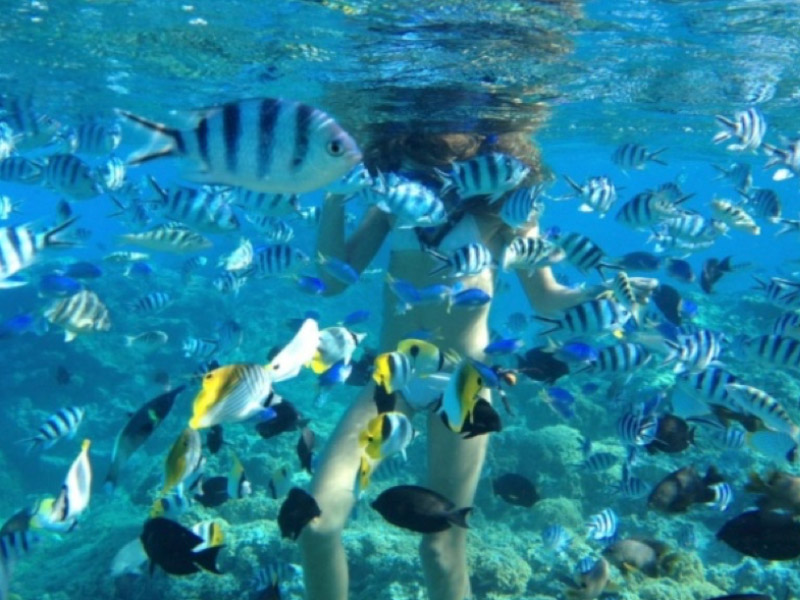 Another location must be visited by snorkelling-lovers is Amed beach. The location, situated in north-eastern part of Bali island, must be a great destination for tourists who are deeply interested in snorkelling. It has 14 km long shoreline which covers seven small villages. Due to its isolation, around 3 hours drive from the international airport of Ngurah Rai in Denpasar, Amed beach offers more tranquillity and calmness to visitors. Because it is blessed with water clarity and dynamic, lively marine life, snorkelling in this area is a must.
A collection of breathtaking reef, stretching along its coastline and thus creating an enjoyable shallow sea world, will entice many snorkelers to stay in any longer. Amazingly, due to its rare visitors, coral reefs will remain natural, sharing its story about its past. In fact, there are several spots in Amed need to be explored by snorkelers including Kembali Beach Bungalows Reef; Jemeluk Bay Snorkelling; Lipah Beach; Bunutan; and last but not least Japanese Shipwreck.
In Kembali Beach Bungalows Reef, snorkelers will be welcomed by friendly sea turtles and abundant tropical fish. Because the spot looks very calm, it is tremendously suitable for all snorkelling lovers, be experienced or inexperienced. While in Jemeluk Bay, arguably the most visited of all due to its centrality and diversity of sea world, all visitors even children can try snorkelling here, only to experience the most lively sensation. Apart from being able to see many kinds of tropical fish such as angelfish, Damselfish, Surgeonfish, also here, you can see an underwater temple and undersea statues erected to endorse coral growth. Yet, to see all this picturesque scenes, snorkelers should go deeper, around 5 meters, depending on the water clarity and visibility.
In Lipah spot to be the second most favourite site in Amed area, snorkelers will see closely abundant hard coral structures, Barrel Sponge, a type of Blue Spotted Rays, and many types of colourful fish, while in Bunutan, snorkelers may find schools of barracuda and black tip sharks. Here is really rich with unforgettable marine life. Yet, it is recommended to snorkel in this spot when the sea looks calm.
Last but not least, in Amed, there is also a unique, unforgettable site where Japanese shipwreck exists. In addition to the sinking ship, snorkelers will be able to see hard and soft corals decorating naturally the ship, many typically tropical fish like Batfish, Clownfish. Yet, while being here, snorkelers must be careful as the spot has many big stones that may hurt their feet.