Chiang Mai to Chiang Rai Overland – 2 Days 1 Night
TOUR ITINERARY:
Day 1: Chiang Mai – Thaton
Early morning pick-up from your Chiang Mai-hotel, airport or train station to start your trip north. Outside Chiang Mai the hills are green and there are many local tribes. The Lisu tribe is one of the smaller tribes home to northern Thailand. You will support them by visiting the community-based, award winning Lisu Lodge-program, aimed at teaching visitors about the Lisu culture and daily life, and help the local people learn about modernization and benefit from tourism. The Lisu have settled in this part of Thailand after having migrated down from Tibet through southern China and Burma. Guided by a Lisu villager you will walk you through the village to visit the Ton Lung temple and the herb garden. You will have a cup of tea with the shaman or 'miracle doctor' at his house to learn about his life, his curing rites and the Lisu traditions. In the small cultural centre you will find many local tools and household items used by both Lisu and Akha people. A local lunch will enjoyed at the lodge before heading on into a wide river valley with forests on both sides. The lime stone hills are full of caves like near Chiang Dao where you will visit a temple complex was formed around one of the deeper caves you will explore. You could ask for an extra stop to see trained elephants demonstrating their formidable and valuable forestry skills, taking a bath and you could optionally experience a jungle tour on elephant's back. Visit Thaton Temple.On to Thaton for the night, a sleepy place on a little brown stream.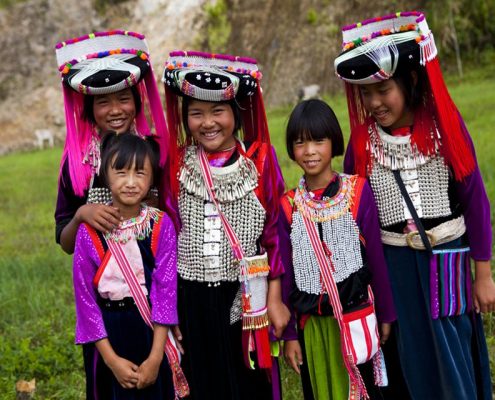 Day 2: Thaton – Chiang Rai

By boat you depart today along the Mae Nam Kok to enjoy the scenery from another perspective. Fields of corn and tapioca or cassava, and all shades of green jungle. Up a hill sits the Akha village of Ban Lorcha, a tribe well presented in these parts. The village is preserved authentically and worth a tour on foot. Learn the ritual of the 'giant swing' see the weaving techniques that produce their colorful cloth by hand and peak into a house and especially the kitchen. Higher up it gets cooler and different produce becomes possible. In the past this area was home to Chinese Kuomintang refugees who brought tea cultivation with them from China. Learn the process and smell the tea bushes on the rolling hills before continuing along the narrow back roads toward Chiang Rai. This town is the centre of tourism in the far north. It has a lively and tasty night market too. Your program stops at a hotel in Chiang Rai or the local airport.
End of the program