Manado is the capital city of North Celebes and there are plenty of activities which you can do during your stay in this city. First of all, we have to talk about Bunaken which is a famous divers destination due to its high biodiversity underwater. After you took a dive, you have to trek Gunung Mahawu which will amaze you with fantastic sights. Still haven't seen enough? Go on safari to see the most interesting and beautiful animals. Do we see you in Manado?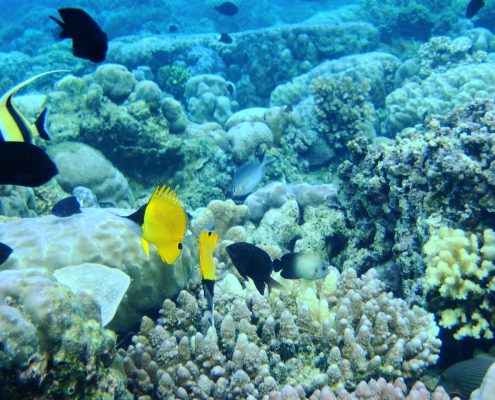 Explorer the underwater world of Bunaken
During your stay in Bunaken, you have to go to Manado. This diving spot welcomes all divers, even if you are a beginner. During your diving adventure, you'll encounter with a lot of life underwater. The spot has a high biodiversity and has even one of the highest biodiversity's in the world. It is even possible to swim with sea turtles, which you have to do when you get the opportunity. The water is also pleasurable to jump in, due to its naturally warm temperature.
Trek on the volcanoes in the surrounding area
Volcano trekking is something you have to do during your stay in Manado. You can go to the Gunung Mahawu which will show you beautiful panorama's at the end of the trek. During you trek, you will also be amazed by the beauty of nature. The trek itself will show you a lot of fresh green landscapes which gives you a surreal feeling and at the end, you will see a crater lake. This crater lake changes colour every day so be amazed by the sight of the active volcano.
Go on a small beautiful safari
Just 60km away from Manado, you will find the Tangkoko Batuangus Nature Reserve. This small reserve shows a lot of biodiversity in little time. This reserve is also the home of the Tarsiers which are called the ghost animals due to their appearance. Encountering with these animals will make your visit even more special. There are also a lot of different birds which have beautiful shapes. Be amazed in this small part of rain forest.
Cultures which are living together in peace
Manado is a city which has a majority of Christians, but there are also Hindu's, Muslims and Buda's. All of these religions live peacefully together and they even made a big monument which symbolize that. The monument is called the hill of love and you really have to see that, because it shows what people are capable of when it comes to handcrafts. In the hill, you see two enormous faces carved out of stone. These people are unified and that's why the people of Manado see this as a symbol for their respect.
Meat which you have never tasted before
Manado's cuisine is different than the other parts of Indonesia. Due to the majority of Christians, Manado is a destination with different norms when it comes to food. The area has a lot of different kinds of meat. Do you want to taste something else which you usually don't eat? Than you have to go to Manado. They serve every kind of meat which has 4 legs and they even sell meat from snakes. Curious about their cuisine now?
https://www.asialink-holidays.com/wp-content/uploads/2019/12/Go-on-a-small-beautiful-safari.jpg
1068
1424
Asialink
https://www.asialink-holidays.com/wp-content/uploads/2018/03/logo-new-1.png
Asialink
2019-12-12 02:54:42
2019-12-11 05:59:40
Best things to do in Manado